EWSU Bill Pay Kiosk Available Outside the Civic Center
(June 15, 2020) The Evansville Water and Sewer Utility (EWSU) reminds customers there are several ways to pay their utility bill and maintain social distancing, including the new bill pay kiosk located outside at the Civic Center.
The bill pay kiosk is located near the main entrance to the building on Martin Luther King, Jr. Blvd. More kiosk locations will available this summer.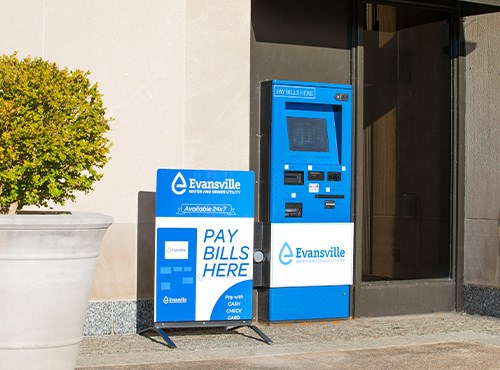 "We are always looking for ways to better serve our customers," EWSU Customer Service Supervisor Carolynn Pajoum said. "The bill pay kiosk is easy to use and available 24-hours a day. It takes cash, check or major credit cards. And it's located outside, so customers can spread out and practice social distancing."
EWSU Executive Director Allen Mounts said now is a good time to call attention to the kiosk because the EWSU cashier window at the Civic Center will remain closed until further notice. He said customers who used the cashier window in the past became more accustomed to making payment at Old National Bank branches while the Civic Center was closed to the public for several months because of Covid-19.
"Having multiple payment locations has worked well for our customers, and we will be adding two additional kiosk locations on the Southeast side within the next few weeks." Mounts said.
More customers are also using the MyWater EWSU App and EWSU Online Portal to pay utility bills on their smartphone or on the computer. With the app and portal, customers can view boil advisories, monitor water usage, review bill payment history, receive notifications and send messages with photos and attachments to Customer Service.
EWSU Bill Pay Kiosk Informational Video